Background
Experience in public participation has reached a critical mass. Organisa-tional learning, dissemination of good practices across institutions and countries, as well as critical self-reflection are now to be achieved among practitioners and users of participatory methods & procedures.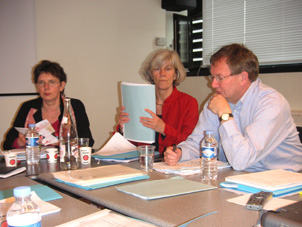 Public participation has its roots in various arenas and bodies which belong to different spheres and are not always linked together. The CIPAST consortium aims to bring these actors together. Pooling their various capacities, and integrating their various contextual perspectives through a common platform, will provide an opportunity to disseminate useful practices more efficiently. The overall objective is to boost innovation and foster the emergence of a European culture of participatory democracy in scientific and technological issues.
The overall objective of CIPAST is to contribute to the active participation of society at large in public policy development relating to science and technology. Nevertheless, if this general purpose has to be more than a slogan, it is crucial to emphasize the importance of the procedures to be implemented in the processes of decision-making at different levels: these procedures must be identified, assessed, improved and disseminated, so that the European political cultures can be practically enriched.
The CIPAST work programme therefore wants to foster the transfer of expertise through the implementation of training programmes involving actors and users. A corpus of training tools, based on case-studies and tested in training sessions, will be developed for the pragmatic needs of the potential users.
Each of the three "levels of decision" mentioned above implies different requirements and conditions for public participation and influence differently the implementation of participatory procedures, including:
the choice of methods
the types of participants involved;
the design of organisational structures and processes;
the target audiences;
the types of outcomes.
For example, participation in research development is likely to be on a small scale, involving small numbers of participants with particular 'life experience' and vested interests (such as patients organisations etc), whereas participation aimed at wider social diffusion and assessment is likely to involve larger numbers of 'members of the public' in an open setting (such as provided by public museums). Likewise, intra-institutional participation may be based on focus-group and similar methodologies, whereas participation in open, public forums may be based on interactive, deliberative methodologies supported by various communication tools, such as video-conferencing and the Internet.
Therefore, each Training Program will specifically focus on the following aspects of public participation:
Aims (rationale, objectives, goals)
Methods (tools, techniques, arrangements) appropriate for participation;
Participants suitable for involvement;
Outcomes realistically to be achieved;
Organisation (design, implementation, dissemination of results, budget) required;
Evaluation (re: process, outcomes, impacts)