La Cité des scičnces et de l´industrie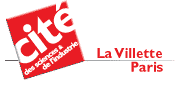 Opened in 1986, La Cité des sciences et de l'industrie is one of the largest science museums in Europe and welcomes around 3 million visitors every year.Nearly a quarter of them are coming from abroad. Almost two third of the visitors are under the age of 26. La Cité's website serves currently 3.2 million visitors per year.
Through a wide range of exhibitions, year-round events, sources of information such as a digital resource centre, a multimedia library, a professional library dedicated to the history of sciences, a scientific updated news service and health and job centres, as well as pedagogical activities for schools and entertainment, la Cité des sciences aims at facilitating the access to the issues involved in the latest developments in science and technology.
La Cité has developed an extensive network of partnerships together with industry, research bodies, both at the national and European level. La Cité assumes the presidency of the ECSITE network up to 2005. Amongst the European projects conducted with the support of the European Commission which La Cité participated in, the MESMUSES project related to the semantic web is noteworthy: it was coordinated by the French national institute for research in computer science and control (INRIA) in cooperation among others with the Institute and Museum of History of sciences (IMSS, Florence, Italy).
The recent creation of the Science and Society directorate attempts to reduce the gap between science and society and to contribute to the development of public debate on scientific and technological issues. In response, in 2002, the College de la Cité - a programme of courses, seminars, conferences dedicated to the main controversial scientific topics - was created.
So far, La Cité has organised two Citizens' Conferences: the first in April 2001 on Bovine Spongiform Encephalopathy (BSE) and the second in February 2002 on climate change, in partnership with the French Committee for Sustainable Development.
La Cité des sciences et de l´industrie is co-ordinating the ongoing project CIPAST - Citizen Participation in Science and Technology (link )
www.cite-sciences.fr
contact: r.schaer@cite-sciences.fr, d.ducoulombier@cite-sciences.fr