Processes and experiences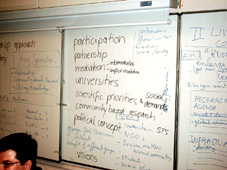 In several European countries, substantial experience of public involvement in science and technology - as well as in other policy sectors - has been accumulated over the last decade.
In Denmark so-called 'consensus conferences' and 'scenario workshops' have been frequently used in technology assessment. In the Netherlands, a tradition of involving stakeholders and citizens has been established through 'constructive technology assessment' (cTA), 'citizens panels', 'science shops' and 'technology festivals'. In Switzerland, so-called 'PubliForum' and 'integrated focus groups' have been used for policy deliberation and public debate. And in France, Germany, Italy and the United Kingdom various public discourse initiatives have been carried out by science museums and science centres.
Participatory procedures then have started to spread from the realm of governmental technology assessment offices and official policy-making bodies to various civil society organisations and the wider public sphere. More and more NGOs and associations, museums and science centres, research bodies, etc… play an active role in participatory initiatives.
With these pages we want to encourage improved knowledge and experience transfer and start a dissemination of good practices.
A site site like this will never be 'finished'.: So please feel free to criticise, prompt and contribute news, events, short reports or experiences from your special field of work (mailto: norbert.steinhaus@wilabonn.de)